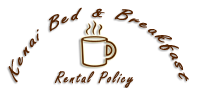 Kenai Bed & Breakfast's Rental Policy
Rental Policies
We would like all of our guests to enjoy their stay here at our property. So, we are asking you to please follow some basic guidelines below.
Check in time is 3:30 p.m. (early check in can be accomodated if avaialble). Check out time by 11:00 a.m.
Please "No SMOKING" inside the house.
Please clean up after yourself after using the kitchen.
Please remove your shoes before entering the house.
Quiet time is after 11:00 pm.
Babies and small children MUST be supervised at all time.
Be respectful to other guests so we all have a good time.
Please treat our place like you would treat your own home.
Cancellation policy
Full refund if cancelling at least 15 days before arrival date otherwise a
$50
cancellation fee will apply. No refund if cancelling within 3 days before arrival date, checking in late, checking out early, or no-show.
* If booking through a third party Website, we will honor its cancellation policy instead.
Property Damage Policy
Damages to property will be billed out at time and material plus 15%.
Terms and Conditions
* We reserve the right to require guests to leave if they are causing a disturbance, annoying other guests or staff or are behaving in an unacceptable manner.
* We cannot be held responsible for injuries incurred at your own risks.